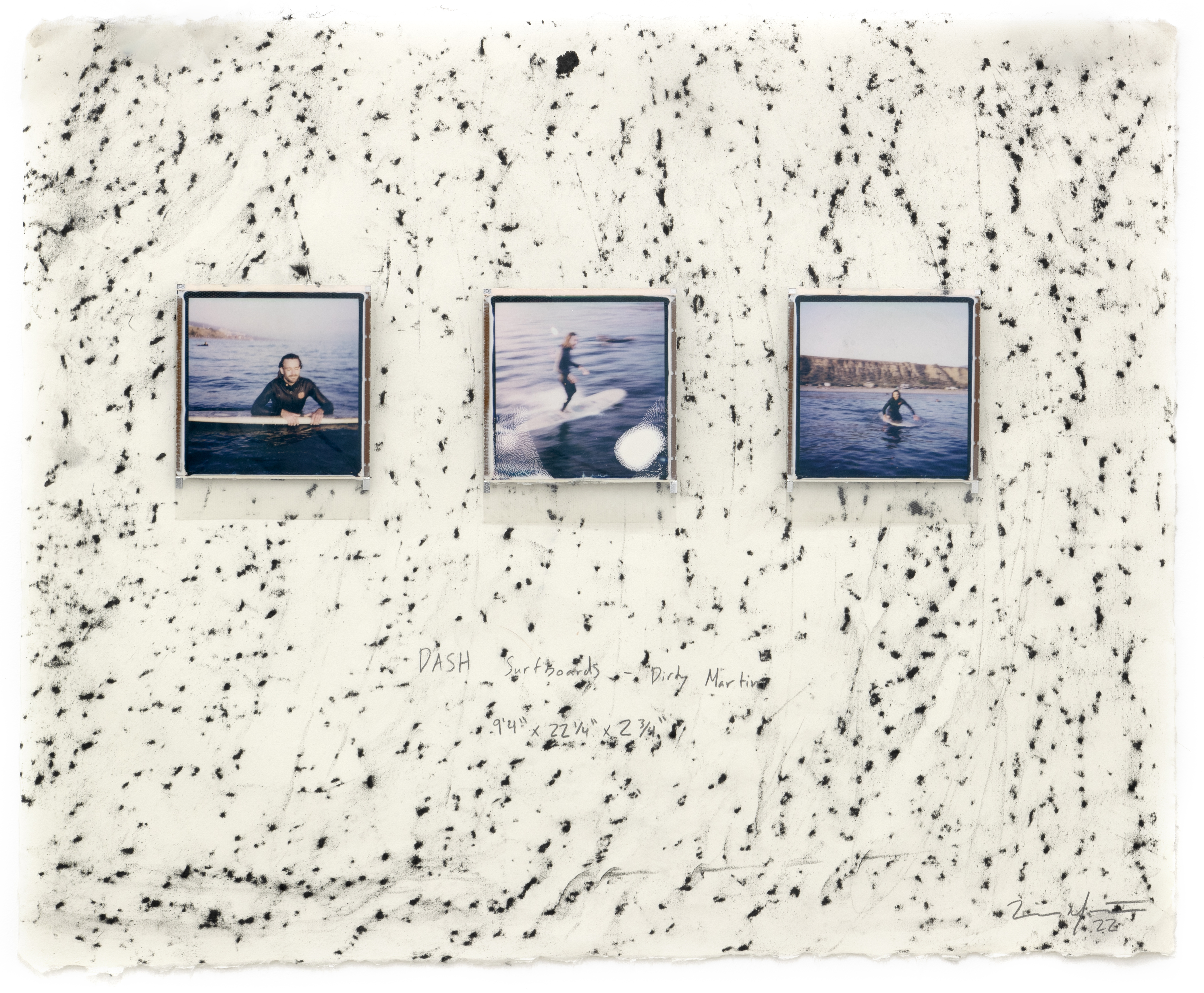 Surf Study (2022)

12 Piece Series
20x16", Polaroid, Ink, Charcoal, Graphite on Paper



Surf Study is a survey of a moment and landscape in which Matthews works with both photography and found objects - shooting with a polaroid in the water and on the beach, and creating prints and charcoal rubbings from found objects around San Onofre.

The instant photographs capture and mirror the fleeting relationship between a surfer and a wave as only a photograph can. The elements introduced from found objects pulls textures from the past - that tell the history of surf at San Onofre, a uniquely timeless California surfing beach. These are marks left from time in the construction of beach buildings and lot, the permanent tumbling of San O's rocks at the waterline, the looming nuclear power plant, and the growth of seaweed. These objects blend with the textures of a new era that still nods to classic heritage like the surfboard, the wax, the van, etc.

It is an observation and study of the classic Southern California surf and art culture that continues- however, uniquely at San Onofre, aging at a different much slower stretched out timeline. The polaroids and their inherently instant nature places us in the current present among these dated influences. It marks now and today in the warped timeline of surfing and San Onofre.


Historically, surfing was coming into common popularity during the postwar period and through the 1960s. The sand, surf, beaches, the icons and iconoclasts alike that populated the coast suddenly became tangled into Southern California Culture's mainstream. San Onofre is an example of an iconic surf break which became one of California's most popular breaks after a jetty extension in 1935 shut down waves at Corona Del Mar. Post World War II, the US Marines had taken San Onofre and hundreds of square miles of inland property. In 1952 the San Onofre Surfing Club was established by Barney Wilkes to allow beach access to members. Throughout the 60s San Onofre cemented itself as a nostalgic class California surf break. Club members were singularly devoted to their beach, "This is our life," as one put it in 1961. "All the days in-between are bare existence." By 1965 there were 800 club members, including many Los Angeles actors, writers, and personalities with an additional 500 on the waiting list. Eventually San Onofre was adopted into the California State Parks system and was opened to the public in 1973.

Adjacently, in Southern California art during the postwar period, assemblage art – art assembled from found objects and materials - became an important mode of creation. Through a combination of cultural circumstances including the development of several new synthetic materials and the great postwar-cold-war abundance of discarded goods this was the break away from abstract expressionism. This method was widely adopted by a number of young Los Angeles painters and sculptors.

Each found object has its own intact history, where they occupied a physical space in a landscape for a given time - simultaneously providing context to its surrounding environment and being contextualized by its surroundings. Each object leaves a mark, however, it is not always noticed. The artist is the one who brings attention to the mark of the object, and in this process of assemblage, the object becomes transformed by the artist's intervention into a Found Object.